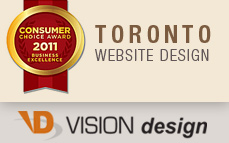 Web Designers
FEATURED WEB DESIGNERS IN ONTARIO.
Vision Design
Based in Hamilton, Ontario, Vision Design is a Canadian-owned company specializing in web design and development. Founded by a team of professionals with years of experience in information technology,.

11 Quincy Crt., Hamilton, Ontario L8W 2T4
Phone: (905) 297-1677 | Website |
---
---
WEB DESIGNERS IN ONTARIO.
Business on Web Designers: 9
Vision Design
11 Quincy Crt., Hamilton Ontario.
Tel. (905) 297-1677

Nvision solutions
95 Royal Crest Crt. Unit 3, Markham Ontario.
Tel. (416) 576-1066

Success Impact
9-25 Royal Crest Crt., Markham Ontario.
Tel. (416) 492-0392

Climax Media
630-185 The West Mall, Toronto Ontario.
Tel. (416) 342-5649

BDQ Works
#1008-15 Viking Lane, Toronto Ontario.
Tel. (647) 342-4797

Geekpower
1211 Gorham Street, Unit 5, Newmarket Ontario.
Tel. (905) 235-3096

N49 Interactive
505 Eginton Ave. W Suit 402, Toronto Ontario.
Tel. (416) 385-2433

Maksoft Technologies
74 Woodside Court, Brampton Ontario.
Tel. (917) 668-6209

Insiteful Solutions
610 Alden Road, Suite 109, Markham Ontario.
Tel. (905) 947-8235